HELLES
LIGHT LAGER LÉGÉRE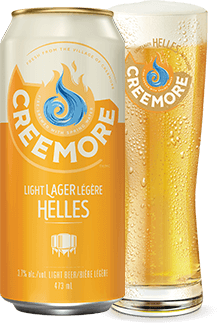 german-style helles light lager
pale straw colour
floral german hop
Style:
Our Helles Light Lager balances a floral hop flavour with a light bitterness. Crisp and clean, this refreshing beer is made with substance, yet full of flavour & calorie-responsible.
Calories:

110 per 355ml serving

ABV:

3.7%

IBU:

10
Aroma:
Low hop aroma and bitterness, true to style
Taste:
Light and slightly bready, grainy malt profile with a floral hop flavour
Finish:
Clean, dry finish; ideal summer beer
Food Pairing:
Our Helles pairs perfectly with Japanese cuisine. Delicate pairings such as umami rich dishes like Sushi and seafood bring this effervescent light lager to life. Also pairs well with white meats such as roast chicken or turkey.